Original Hawaiian Chocolate Factory Plantation Tour
​In response to the Covid-19 virus outbreak Original Hawaiian Chocolate has decided to temporarily stop tours and close the Chocolate Shoppe at the plantation. We are committed to helping keep everyone healthy and safe. We look forward to having our tour and shoppe operations open again soon. In the mean time, our delicious single-origin chocolate is still available on-line. Remember, Chocolate is Aloha!
Reservations are required for our farm tour. Please be sure to book your tour in advance using the availability calendar below. Thank you.
The OHCF plantation and factory tours are offered Wednesday mornings at 9:00am and Friday mornings at 9:00am and 11:00am. **See below for current tour availability. It is a one hour walking tour of the orchard and factory and of course, includes chocolate sampling! Bob conducts a fabulous tour … it's full of information about every step in the chocolate making process, from growing the trees to molding each handmade delicious bar.
​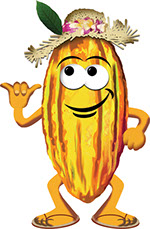 "Koko" the Cacao PodWelcomes you!OHCF is an active working plantation and advance reservations are required for all tours. We are located in the Keauhou area of Kona. The cost is $20.00 per person and children under twelve are free. Once your reservation is confirmed we will provide you with directions to the farm. Please arrive 15-20 minutes before tour time. In consideration of all our guests, we do strive to start each tour on time.
Currently our chocolate shoppe is open Tuesday through Friday from 10:00 am until 3:00 pm. You may also purchase OHC Chocolate from the many fine local shops listed under Contact Us. For any further information feel free to call us at 888-447-2626 or email at info@ohcf.us. We look forward to meeting you!
Chocolate is Aloha®!
The OHC 'Ohana
Please book your reservation online below. We look forward to seeing you! PLEASE BE SURE YOU HAVE SELECTED THE CORRECT DATE BEFORE YOU PRESS THE "COMPLETE BOOKING" TAB. UNFORTUNATELY, DUE TO THE EXCLUSIVITY OF OUR TOURS, WE MAY NOT BE ABLE TO ACCOMMODATE ARRIVALS ON AN INCORRECT DATE. MAHALO!